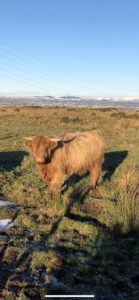 Due to the Corona pandemic, it was unclear for a long time whether a stay abroad in Scotland would be possible this year or not. Luckily, the West Lothian Council offers a house for all GET teachers each year where they can live for their six months. Luckily this included me! As soon as I got the information that I can enter Scotland I took the chance, booked a flight and packed my bags. Since the good news came at very short notice, everything had to be done quickly. But with a lot help of my friends and family in Germany and also from the people in Scotland I managed everything very well.
As soon as I arrived, I was surprised by the friendliness and kindness of the Scottish people. On the way from the airport to my new home different people asked if I need help with my baggage and everyone who came towards me greeted me. Later I realized that is completely normal (at least in small Livingston). However, I think it's a small gesture that makes a big difference. At the house I was warmly welcomed by the people who support the GET teachers in my council and even by the head of the modern languages department at my school. Two meters away from each other, of course.
During the next few weeks, I had time to arrive and to settle because I had to wait for my PVG. This paper allows me to enter a school and work with children. I used this time to take a lot of walks and to explore my new surroundings. Unfortunately, I was not allowed to travel any further because of Covid restrictions. I was already aware of this fact, but it was a shame anyway.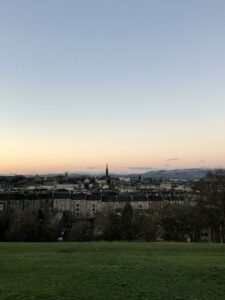 I remember that I got my PVG on a Saturday with the mail and on Monday I was already able to go to school and join the German lessons. Also, on this day I met my mentor and all members of the department. The pupils gave me a tour of the whole school and for me it was very huge and confusing. The James Young Highschool is two times bigger than my old school which is why I was very impressed. Around 1200 pupils attend this high school. However, there are few pupils studying German. German is not a mandatory subject. After French and Spanish, it is their third foreign language if they choose to study it. In some courses there are only three pupils. I would not say that this makes teaching easier, rather it is different. Besides co-teaching, my mentor gave me the chance to plan and teach lessons on my own. I can't deny that I was nervous before these lessons because of the language barriers, but my mentor was in class in the back of the room all the time and the pupils were very understanding and patient. I had a few lessons planed on German stereotypes, culture and traditions which lead to interesting conversations. Furthermore, I learned that not every lesson goes as planned and that every class works and learns in different ways. My mentor gave me a lot of efficient feedback which I could use for future lessons. She gave me the chance to try different techniques and methods, and I cannot describe how thankful I am to her. Even in this short time I learned so much.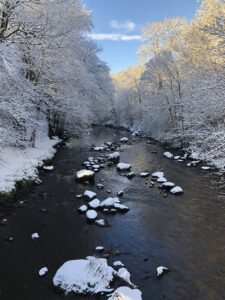 Due to a mutated virus and therefore new Covid restrictions, my physical internship had to end at the beginning of the new year. It was the safest solution for me to travel home and to support the school virtually from now on. This decision was made within four days, which led to another spontaneous departure. I am sad that my time in Scotland is over so much sooner than expected. However, I definitely want to go back someday because I found friends in colleagues who supported me so well during these difficult times and moreover, I have to catch up on much more travelling.