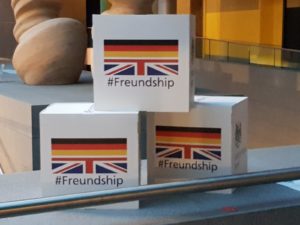 From 13th to 15th May 2019, the British Council, Great Britain's international organisation for cultural relations and education, brought its "Going Global" conference for leaders of international education to Berlin. In course of the events, BUILA (British Universities International Liaison Association) and DAIA (Deutsche Assoziation für internationalen Bildungsaustausch) hosted an EU-UK Education Showcase and Reception at the British Embassy Berlin on 14 May 2019. The showcase was moderated by Robbie Bulloch, Deputy Head of Mission at British Embassy.
BUILA and DAIA invited ambassadors of leading collaborative projects between the UK and EU countries in the fields of research and education. Priv-Doz Dr Sigrid Rieuwerts, the initiator of GET Across Borders at JGU Mainz, and Tessa Deiss, a JGU-alumna who supports the project organisation at the Mainz HUB in Glasgow, presented GET-SET-GO and its valuable contribution to the internationalisation of teacher education.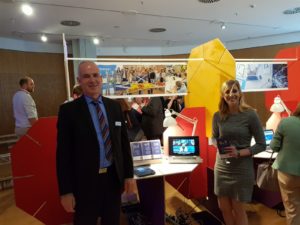 Univ-Prof Dr Georg Krausch, President of the Johannes Gutenberg University Mainz, and Tessa Deiss
The Showcase aimed to present and celebrate the benefits of the flow of knowledge connecting the UK, European countries and the world. International collaboration in education and research enhances the possibilities for all contributors to develop knowledge and skills that benefit innovation. The aim was to promote an inclusive and smart Europe by exploring how to continue and improve cooperation in the following fields:
1. Health
2. Artificial Intelligence (AI)
3. Sustainability
4. Human workforce and educators of the future
As part of the fourth field, GET-SET-GO was presented as a prime example of a project fostering international cooperation in teacher education and volunteering, and encouraging trainees to literally "GET across borders":
Every year since 2013, "German Educational Trainees" (GET) from German universities have been sent to various Scottish schools for six months. They support local teachers in class teaching German language and culture and thus enhancing intercultural understanding. The GETs are often the first contact Scottish pupils have with native German Speakers. "Scottish Educational Trainees" (SET) are, in turn, placed in schools in Rhineland-Palatinate as English teaching assistants for three to six months. The "Global Outreach"-programme (GO) brings students of all departments of the University of Glasgow to Rhineland-Palatinate and German students to Scotland where they participate in and contribute to various social projects. These internships are arranged by the GET Support Team in close cooperation with the Study Abroad and Exchanges Team at the University of Glasgow as well as with the local Mainz HUB (Tessa Deiss).
Working abroad, the students participating in the GET, SET and GO programmes improve their language skills and social abilities. Today's trainees are encouraged to become the skilled workforce and educators of tomorrow. International teaching and work experience with GET Across Borders raises awareness of cultural sensitivities and helps students to develop the intercultural competence of "Global Citizens". The programme was thus presented at BUILA's and DAIA's EU-UK Education Showcase and Reception as a contribution to the aim of maintaining close and productive international relationships.