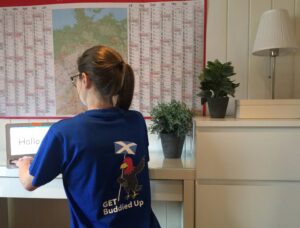 The annual Languages Week Scotland took place on 02-05 February 2021. As the protection of multilingualism is very important to us, we were happy to join our partners at the City of Edinburgh Council and raise awareness of the benefits of learning second languages. Join us in 'celebrating Scotland's languages landscape' and have a look at the exclusive material we are providing for German teachers in Scotland! Throughout the week, we have created several language learning challenges that can be found below and on our social media pages (Instagram, Twitter and Facebook).
Here's what our partners at the City of Edinburgh Council said about the GET programme in light of Languages Week:
"This is a highly valued partnership, based on solid shared commitments to supporting our young people
with language learning and in forging active, life-long links across borders.
Through our collaborative work, hundreds of Edinburgh primary and secondary pupils, their teachers and families,
have enjoyed the tangible benefits of the energy, enthusiasm and expertise our German Education Trainees
bring to our classrooms – real and virtual!
The 2020-21 cohort of GETs have made a unique and invaluable contribution, bringing language learning
to life at a time of great challenge and uncertainty.
We are all looking forward to watching this partnership grow and flourish in years to come."
Challenge Day 1: Numbers 1-10
Challenge Day 2: die Wochentage - the days of the week
Challenge Day 3: Zungenbrecher - tongue twister
Challenge Day 4: Redewendungen - figures of speech