In Angus Council, I work at three secondary schools, which are Montrose Academy, Arbroath High School, and Arbroath Academy. With the schools being divided spatially and thematically into curriculum groups, my work as a German Educational Trainee takes place in the Modern Languages departments, which consist of three to four teachers depending on the size of the school.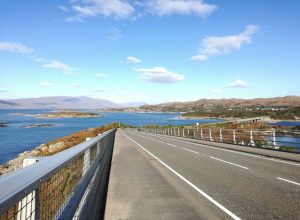 My remit covers a broad and diverse range of tasks and responsibilities. First and foremost, I am engaged in the process of promoting pupils' language skills in terms of reading, listening, and speaking comprehension. Moreover, I support the German teachers in planning, preparing, and delivering foreign language teaching by designing new learning materials, for example written conceptions of listening comprehension texts and their recording. During the course of a lesson, my focus is very much on the general improvement of the pupils' written and oral communication skills involving independent work in small groups or even individualised tutoring.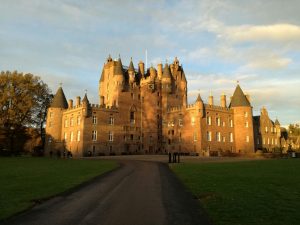 Apart from being a native speaker of German, which sometimes goes along with serving as a linguistic contact person and a walking dictionary (!), my presence also creates the ideal learning setting for making pupils aware of the basic function of foreign language learning. Through authentic situations with a real representative of the German language, the pupils experience the true purpose of learning a foreign language, which is being able to understand and communicate. Consequently, the pupil's perception of German shifts in the sense that they no longer see it as just one subject among many others but rather as the key to a broadened cultural awareness. In dealing with a foreign language and the culture linked to it, the pupils not only acquire linguistic skills but also make a major contribution to the development of their own identities. By giving insights into the cultural and historical background of Germany, I encourage a process of self-reflection in the pupils' minds as they start to think about the defining parameters of their home country and mother tongue as opposed to another country, Germany for example. This is a mutual exchange since I also largely benefit from seeing beyond the end of my nose and gaining access to the Scottish way of life by becoming a part of the pupils' daily school life. I personally enjoy this intercultural exchange very much, especially with regard to the pupils' genuine openness and great interest in German culture.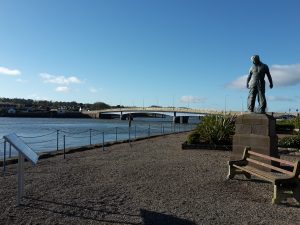 I was warmly welcomed at all of my three schools, my contact person from the Council introduced me to the teaching staff and showed me the school premises. Furthermore, the staff at Angus Council were as outgoing and approachable as the teachers at the schools. On my first visit, I was given my contract of employment and my badge and like all the other language assistants I received a very warm welcome.
When it comes to work, I can rely on great support by the schools. I have access to the staff rooms, the libraries as well as to the school-based intranet. For this purpose, a computer account and an email address were created for me in order to enable me to quickly integrate myself into the electronic administration of the schools. In terms of interpersonal relationships, I have experienced a relaxed atmosphere and fun at work. This conducive learning environment is realised by the dedicated teachers whose professional and well-structured working methods are based on their high language competence and their pedagogic and didactic skills alike.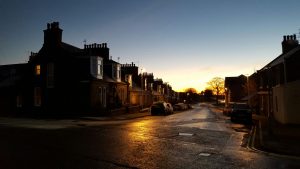 As a place to live, Angus is essentially rural in nature and features small towns like Arbroath, Forfar, and Montrose, which provide everything that is needed for daily life and attract the eye with beautiful landscapes, coastlines, and historic sights. I live in the coastal town of Montrose, which is centrally located between Aberdeen and Dundee, Scotland's third and fourth largest cities. With an approximate population of 12,000 inhabitants, Montrose is the third largest town in Angus.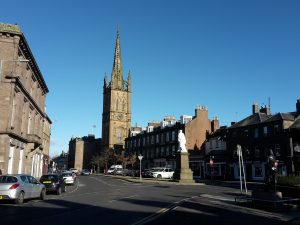 One of the most impressive characteristics of this former royal burgh is Montrose Basin, an enclosed estuary of the river South Esk, which serves as a nature reserve for a broad range of wildlife. When approaching Montrose, you cannot help spotting the tall steeple of Old and St Andrew's Church, which is located in the town centre and most notably shapes the appearance of Montrose, which is home to a multitude of historic and modern structures.
Due to the well-connected infrastructure of public transport services in and around Montrose exploring the area without a car is quite feasible because you can comfortably reach all points of interest, near or far, by bus or train. Additionally, Montrose is well suited as a starting point for one-day or longer trips to the Highlands or even to the whole of Scotland.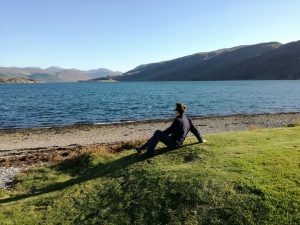 Depending on which location you prefer as your place of residence, you can either stay in Dundee, the biggest city around or look for accommodation in rural surroundings, like me. I luckily found a room in a house share at http://www.spareroom.co.uk/ which was offered by a private landlord, and which was exactly opposite my host school. From my point of view, looking for shared flats or houses is the most worthwhile way to find accommodation, as you can easily integrate into an already existing household with furnishings, kitchenware, and ongoing contracts for internet and incidental costs available. Moreover, there is no better way of getting into contact with locals or other international students or professionals and, by doing so, improving your foreign language skills in authentic situations of everyday life communication.
To put it in a nutshell, my participation in the GET-programme has turned out to be a very good decision. Living and working in Scotland as a German Educational Trainee will definitely be of great benefit to my later career as well as my personal development and I already look forward to visiting this beautiful country again in the future.