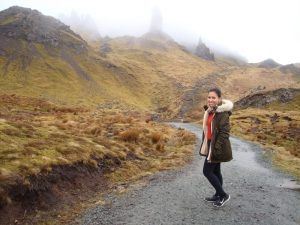 During my stay abroad I worked as a German Educational Trainee at Boroughmuir High School, Bruntsfield Primary School, South Morningside Primary School and Buckstone Primary School in Edinburgh. Although I taught German and assisted in more than nine different classes, mainly P6-P7, under the class teachers' guidance at the primary schools, I spent most of the time as a language assistant at my base school – Boroughmuir High School.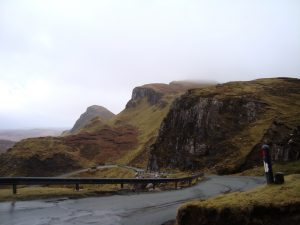 "Justus et Tenax", which means "Just and Tenacious" is the motto of Boroughmuir High School.  With over 1140 pupils and about 80 teachers, Boroughmuir High is one of the largest high schools in Edinburgh. In contrast to German high schools, it is quite common for British high schools to be divided into different houses, as each pupil at Boroughmuir is assigned to one of the four different houses. Depending on the performance, diligence and discipline of each pupil, they can collect house points throughout the school year, which not only supports the pupils' discipline, but also their motivation and ambition. The professional competence and especially the motivation of the teaching staff at Boroughmuir High is extraordinary, at least that's what I experienced in the Modern Language Department.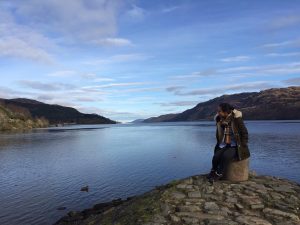 Months before I started my work experience in Scotland, I was already in contact with my mentor at Boroughmuir via email. She not only welcomed me and was quite helpful in organisational matters, but also helped me find accommodation in Edinburgh by sending an email to the teaching staff at school.
On my first day at the school, I was warmly welcomed by everyone right from the start. To begin, I was greeted by the people at the reception, where all staff and visitors have to register on a daily basis. I was then introduced to my colleagues in the Modern Language Department, especially to the German teachers. In contrast to German schools, every teacher in Scotland has his/her own classroom to which the all the different pupils have to go to.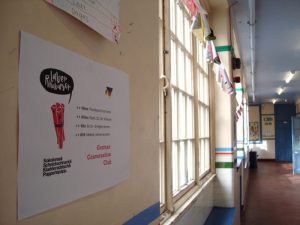 At Boroughmuir I often worked with smaller groups of pupils as a part of a German period, focussing on speaking practice and conversational exercises, but also to help prepare the pupils for their upcoming exams. However, I was also asked to prepare whole lessons on cultural topics, such as German TV or our school system. Furthermore, I also had the chance to do a German Conversation Club, called "Laber Rhabarber", for S3 to S5 Higher German pupils every Thursday during lunch break, which was fun to do. Moreover, I fortunately also had the opportunity to do a bilingual Geography project, namely "Städte als Spiegel der Zeit", with the help of my colleague Antonio Schiavone and my mentor Simon Alexander. This project covered the city development in Mainz and Munich, and was successfully implemented in an S4 and S5 Higher German class at Boroughmuir High School.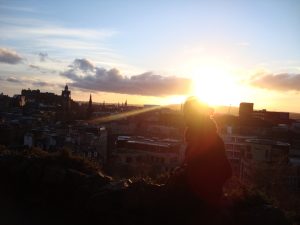 Edinburgh itself is such a great city to live in, with all its gorgeous sights and different historic sites in the city centre, from Old Town to New Town, and the beautiful landscape with Arthur's Seat, Calton Hill and the Pentlands to name a few. Also, culturally wise it has a lot to offer with all its theatres, cinemas, museums and galleries, but also with its huge variety of different bars, pubs, clubs, restaurants and small shops. New Year's Eve, also known as "Hogmanay" in Edinburgh is a reason worth staying in Edinburgh at the turn of the year.
All good things come to an end, and I'm more than grateful for the amazing and unique time I had in Edinburgh - an experience I will never forget.